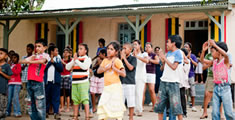 Lekol Anou Grandi was founded on 14
th
January 1999 by Rama & Gina Poonoosamy for their daughter Amsi.  Gina Poonoosamy believed that children with developmental disabilities deserved a quality care and education.  To continue the activities of the school the
ASSOCIATION ANOU GRANDI
was  formed in December 2000 with seven members, namely Eddy Yeung, Selvam Madoorapen, Joel Toussaint, Isabelle Le Bon-Poonoosamy, Luc Le Bon, Rama & Gina Poonoosamy.
It is a non-profit Charitable Organization (registered under the provisions of The Registration of Associations Act 1978) dedicated to the care and education of children with developmental disabilities. In 2002, the membership of the Association was opened to all parents whose children attended the school.
From seven members in 2000, The Association membership, in 2011, stands at 150. The members come from  all cultural and social groups and backgrounds.
Back to top