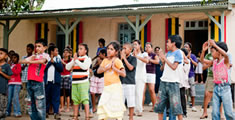 We wish to thank all our sponsors. Anou Grandi is a special place, serving special people and we know that we could not have made it for the past 11 years without the support and generosity of the numerous sponsors who have positively responded to our call for help. Special thanks to Young Bros, Air Mauritius, General Construction, Supintex ltd., Pharmacie Nouvelle, Socal ltd., Kemp Chatteris Deloitte, J. Kalachand & Co. Ltd, Emtel, Atics, Groupe Cassiya, Rogers, Harel Mallac , UBP, Ferney Spinning Mills, Suchem Ltd, Pace ltee., AAA, Maurice Publicité, Publico, Immedia, UltraCOM, Somags ltee., Happy World Marketing, Sotramon, Naiade Resorts, HSBC, Standard Bank, MCB, Groupe Mon Loisir, Groupe Food and Allied, Inner Wheel of Curepipe, Lions of Port Louis, The Personnel of HSBC Mauritius and to all the honourable individuals who share our views.
Since the end of 2009, as a Non Governmental Organization working in the field of Education, Association Anou Grandi qualifies for funding under the CSR initiative. The CSR Accreditation number is N/1124.
A regular project status report is prepared for all sponsors. It is the school policy to encourage regular visits from all our existing and prospective partners and sponsors.
EMINEO, EMTEL, FAIL, FCI SUD ltd, FONDATION JOSEPH LAGESSE, GALERIES FOKEERBUX, GENERAL CONSTRUCTION, HSBC, SHELL, SUPER U, TOP PARTNERS have contributed and some are continuing to contribute to our mission of helping children and young adults that we serve.
Back to top